Tony Nicklinson's 'courage' will lead to law change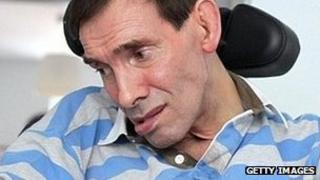 Labour peer Lord Joffe has said Tony Nicklinson's "incredible courage" will eventually lead to a change in the law.
Mr Nicklinson, a man with locked-in syndrome who fought to legally end his life, died on Wednesday.
Lord Joffe, a right-to-die campaigner, said the law needs to be changed and "MPs are not listening to society".
Mr Nicklinson, 58, from Melksham, Wiltshire, described his life as a "living nightmare" after he was paralysed following a stroke in 2005.
Last week he lost his High Court battle to allow doctors to end his life.
Lord Joffe, who has been campaigning for a change of the law on assisted dying, said: "I think Tony Nicklinson's incredible courage and determination has persuaded society that the law must be changed to prevent terrible suffering."
In 2006, Lord Joffe put forward a bill on assisted dying that was blocked by the House of Lords.
And last year, Mr Nicklinson said he felt "let down" after The Commission on Assisted Dying concluded it could not condone a doctor being allowed to end his life.
'Society's best interests'
"I think Tony correctly felt there needed to be a change in the law to permit him to end his life," said Lord Joffe.
"And it is clear that we do need a change in the law - the law must seek to find such a solution."
Earlier this year, MPs backed guidelines that to prosecute someone who helps another to die must be in the public interest and must take account of the suspect's motivation.
But, according to Lord Joffe, the guidelines "excluded doctors".
"MPs are not listening to society," he said.
"Their job is to take account of the views of their constituents and 80% of the public is in favour of a change in the law."
The British Medical Association does not want the law changed. It said "it does not believe that it would be in society's best interests for doctors to be able to legally end a patient's life".
Dr Andrew Ferguson, from the group Care Not Killing, said: "When you change the law on something as fundamental as murder you actually remove legal protection from other vulnerable groups.
"There are obvious groups like the disabled, those who are depressed, who are terminally ill - it could create very dangerous precedents indeed."
'Influence Parliament'
But Lord Joffe believes the debate on assisted dying will continue.
"The legislation which we have proposed, and are currently putting out to consultation, is to ascertain the views of society on this issue in the hopes that this will influence parliament to change the law in an appropriate way to prevent such suffering," he said.
"And indeed it is proposed that a new bill on assisted dying will be introduced in parliament in the next year by Lord Falconer and hopefully in the end - I'm certain - there will be a change in the law."
Another man with locked-in syndrome, known only as Martin, who contested his case at the same time as Mr Nicklinson, has announced he will be appealing against the High Court decision.