Soldiers uncover 27 ancient bodies on Salisbury Plain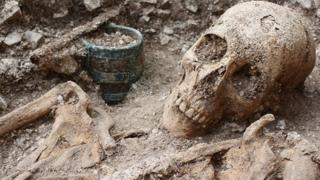 Soldiers have unearthed 27 bodies during an archaeological dig on Salisbury Plain.
Troops from The Rifles, injured in Afghanistan, were excavating the 6th Century burial site at Barrow Clump, as part of a programme of rehabilitation.
The bodies, including Anglo-Saxon warriors, had been buried with a range of personal possessions.
Rifleman Mike Kelly said: "As a modern day warrior, unearthing the remains... fills me with overwhelming respect."
Barrow Clump, a 40m (131ft) barrow, is sited on the Defence Training Estate on Salisbury Plain near the village of Figheldean.
According to county archaeologist, Melanie Pomeroy-Kellinger, it is the only remaining "upstanding Bronze Age mound" of a group of 20 mounds.
"All the others were ploughed flat but this one managed to survive," she said.
"But there are at least 70 badger sets - and badgers have been attacking the barrow and chucking things out.
"So a decision was taken to completely excavate what's left of it."
A project was set up by the Defence Infrastructure Organisation (DIO), English Heritage and Wessex Archaeology for a team from The Rifles to excavate all the burials at the monument.
By the end of July, artefacts uncovered included shield bosses, brooches, amber and glass beads, spear heads and a wooden drinking vessel.
'Sign of respect'
"I never imaged that we would uncover such amazing artefacts," said Rifleman Mike Kelly from 1 Rifles.
"I discovered a warrior that had been buried with his shield placed across his face, which I believe to be a sign of respect.
"I have been to war myself and I can imagine what the soldier would have felt as he went into battle."
The artefacts are due to taken to Wiltshire Heritage Museum in Devizes.
Rowan Kendrick, from 5 Rifles, said: "My best subject at school was history and I really enjoyed school trips to museums.
"But I can't believe that when I visit the Wiltshire Heritage Museum I will be looking at artefacts that I have found."