Titanic menu sells for £46,000 at auction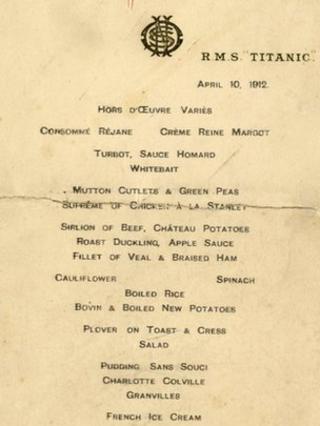 A menu of the first dinner served to first-class passengers on the Titanic has sold for £46,000 at auction.
It was among 400 items being auctioned in Wiltshire as part of the 100th anniversary of the ship's sinking in the Atlantic Ocean.
The opulent menu is dated 10 April 1912, three days before the liner hit an iceberg on her maiden voyage and sank, killing 1,522 people.
It features several courses, such as roast duckling and fillet of veal.
Andrew Aldridge, of Henry Aldridge and Son Auctioneers, said: "Menus from the Titanic are among the most sought after memorabilia from the doomed liner."
The menu itself was the property of Charles Caswell, a first class steward, aged 34, from Southampton.
Mr Caswell sent the menu to his wife Hilda when Titanic stopped at Queenstown, but he later died when the ship sank.
Also featured in the sale was a gold medal awarded to the rescue ship Carpathia's Second Officer James Bisset.
He later became Commodore of the Cunard line.
"After the survivors of the Titanic disaster were picked up by the Carpathia a committee was formed by a group of surviving First class passengers to reward the crew of the Carpathia and the Captain Sir Arthur Rostron with the silver loving cup and medals for all of the crew," said Mr Aldridge.
"This is only the second gold Carpathia medal to be offered in the last 25 years and is thought to be the most senior officer's medal to ever to go under the auctioneers hammer."
The medal sold for £41,000.