Russian great bustard eggs hatched in Wiltshire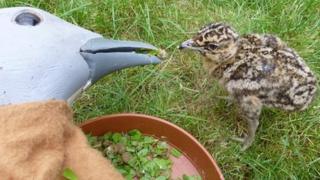 Six great bustard eggs flown over from Russia have been hatched in Wiltshire.
The world's heaviest flying bird, extinct in the UK since 1832, was introduced to Salisbury Plain in 2004.
Since than more than 100 birds hand-reared in Russia have been released by the Great Bustard Group (GBG).
David Waters from the GBG said: "To know all six eggs survived the journey is brilliant and bodes well for next year."
In the past eight years a small population has been established from chicks brought from Russia.
A spokesman for the group said: "As all the eggs are rescued from destroyed nests, they can be at any stage of incubation and development of the chick inside.
"Some of the eggs destined for the UK hatched in Russia and the shipment of eggs was subject to delays and problems with transport regulations.
"But despite the heat, the rough roads and the inevitable times at the airports all six eggs have now hatched."
Although one chick died following "complications from a difficult hatch", the remaining chicks are currently being reared in a quarantine unit.
A further shipment of great bustard chicks is planned for later in the year.