Stonehenge visitor centre and road closure project starts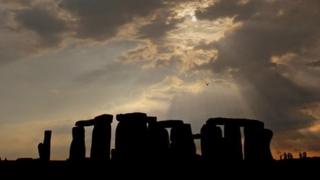 A £27m project at Stonehenge to build a new visitor centre and close the road alongside the monument has begun.
The centre will replace existing buildings. After the closure of the A344, a shuttle service taking visitors to and from the stones will start.
The existing car and coach park next to Stonehenge will also be removed.
English Heritage said the work would "restore the dignity" of the stones' setting and "minimise the intrusion of the modern world".
The 3,500-year-old World Heritage site receives more than one million visitors a year.
Restored to grass
English Heritage said the closure of the A344 would reunite the monument with The Avenue - its ancient processional approach. The stretch of road to be closed will be grassed over.
Head of Stonehenge Peter Carson said: "It's a really fantastic day for Stonehenge.
"What this does is address a lot of concerns that people have had at Stonehenge for decades. It will remove the inadequate facilities and it will mean that we have an open landscape that people can explore.
"I'm absolutely delighted and it will transform the experience for those who visit in the future."
When finished, the visitor centre will be situated at Airman's Corner, about a mile-and-a-half (2.4km) west of the stones, and is expected to open in autumn 2013.
The centre will include exhibition and education facilities, a cafe, shop and toilets.
The area near the stone circle will be restored to grass in summer 2014.
A grade II listed Airman's Cross memorial at Airman's Corner was recently removed to make way for work to upgrade the road junction.
It has been put into temporary storage and will be re-sited in the grounds of the new visitor centre once work is completed.