Explorer Edward Wilson's sledge flag returns to Gloucester Cathedral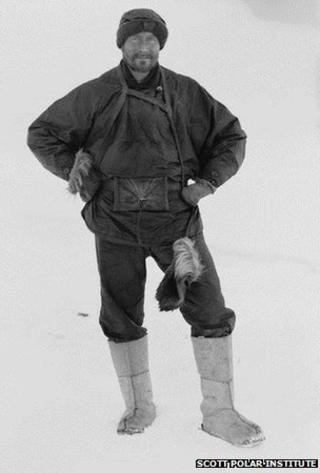 The sledge flag of a Cheltenham-born explorer who died on Captain Scott's Antarctic expedition 100 years ago is set to return to Gloucester Cathedral.
Dr Edward Wilson, a former pupil at Cheltenham College, was in Captain Robert Scott's team which trekked to the South Pole in January 1912.
All five members died on their return to base camp. The flag was found rolled up next to the body of Dr Wilson.
It is due to go on display at the cathedral for a special service later.
'Knew every inch'
The 3ft (90cm) by 1ft (30cm) flag, showing the cross of St George and the Wilson family crest, was found in the explorer's tent carefully rolled up beside his body.
It was returned to his widow in 1913 following the expedition's return to England and presented to the cathedral in 1914 for "safe-keeping" and display in the Lady Chapel.
In a letter to the Dean of the Cathedral at the time, Mrs Wilson wrote: "Gloucester Cathedral was more loved by him than any other church in the world - I think he knew every inch of it."
But in 1930, following a suggestion that it should be moved to a display case in Chapter House, Mrs Wilson decided to transfer the flag to the Scott Polar Research Institute at the University of Cambridge.
The Polar sledge flag, on loan from the institute, will return to the cathedral for a special service.
A special Evensong, performed by the Cathedral Youth Choir, will follow an illustrated lecture for the Friends of Gloucester Cathedral by Wilson's biographer Isobel Williams.