Lyneham pre-school to close over Ministry of Defence move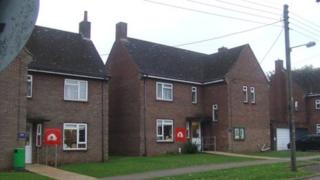 Military and civilian parents who use a pre-school in Wiltshire have been told it will close in four weeks.
Little Alberts has been open for 30 years in two military houses near the former RAF base in Lyneham.
Now, with the RAF moving out, the Ministry of Defence wants the land back.
Manager Jean Rimmer said they were made aware of the situation last September but she hoped that they could remain open.
'Upsetting'
"I find it really hard to talk about because we never actually thought that we were going to close, and now we are, and it is just really sad.
"It's really upsetting because it is something that we never wanted to happen," she said.
All seven members of staff will be made redundant at the nursery which caters for some 40 children for sessions during the day.
Deb Hudson, the longest serving member of staff at 12 years, said there was always "a little bit of hope" it would not close.
"There was a meeting back in March where they thought they had found a formula to keep us open, so to now be told that actually that is not going to happen is really upsetting," she said.
An online petition opposing its closure has received 120 signatures.
The MoD has been invited to respond but the BBC is still awaiting a reply.
Ministers made the decision to close RAF Lyneham in 2002 as part of a strategic review of military bases.
It is to be turned into a defence training centre, operational before 2015, and the final RAF personnel will leave the base in September.