Defects at Grand Designs presenter Kevin McCloud's homes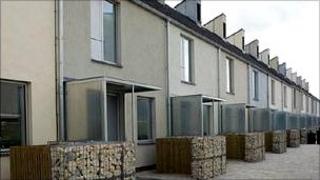 Residents of homes in Wiltshire created by Grand Designs TV presenter Kevin McCloud have reported having issues with stairs and doors.
People living at The Triangle, in Swindon, have also had water leaks and cracked walls and ceilings.
The 42-home "eco" scheme by Haboakus is a joint venture between Mr McCloud's firm Hab and housing group GreenSquare.
A spokesman admitted "significant problems with building defects" and blamed the quality of building work.
As well as the water problems and cracks, some residents in the rental properties have complained about patio doors falling off because of snapped hinges, and stairs dropping.
Sarah Hartley said she had had a problem with a water leak since last September.
"It started in the front room, spread across the whole of the ceiling and went into the bedroom.
"It's been leaking since then and it's causing the paint to peel off.
'Shrinking my clothes'
"They came in and redecorated but they didn't do a proper job so they're going to have to come back again."
Another resident, Jessica Jones, said: "My rain harvester broke, which means I get no water supply in my toilet.
"I've just been told that my washing machine is not going to work, so they've connected it to the hot tap but it's shrinking my clothes."
Spokesman for GreenSquare, Vic O'Brien, said: "We have had, and we continue to have, some very significant problems with building defects.
"They are things which we weren't expecting from the builder and we're now in the process of tackling all of those.
"It's bad building. There are hardly any design issues there, it's to do with the quality of the building works."
Construction of the terraced homes, a "contemporary interpretation of Swindon's Victorian railway cottages", began in May 2010.
When work was completed last July, Mr McCloud, who has presented Channel 4's Grand Designs since 1999, said the scheme had been created to promote a sustainable lifestyle and a sense of community.
It features shared kitchen gardens and public spaces which everybody living there collectively owns through a community trust.
Mr O'Brien said the most "important" problems would be dealt with "in the next few weeks" and all issues would be dealt with by the end of the summer.