Huge statue back at Stonehenge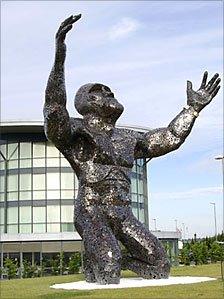 A seven tonne steel statue is to be dismantled and moved to Stonehenge for a second time.
The 22ft (6.70m) figure, called Ancestor, was first installed at the ancient monument in 2010 but has since been at Solstice Park near Amesbury.
Last year, creators Andy Rawlings and Michelle Topps failed to sell the statue on e-Bay.
It will be at Stonehenge for the Summer Solstice before being moved to Salisbury for the Olympic torch event.
The statue depicts a man with "head thrown back and arms open wide".
It took nine months to create out of thousands of hand-cut pieces of steel welded to a steel frame.
Ms Topps said: "What we tried to do with his position is to actually capture the very moment the sun comes up and he's dropped to his knees in thanks.
"One lad saw him and immediately said: 'Thierry Henri goal celebration' - it's that moment that we've tried to create with him and hopefully we've pulled it off."
The statue, fitted with a crown of copper diamonds to mark the Diamond Jubilee, will be dismantled by personnel from 32 Regiment Royal Artillery on Monday and rebuilt at Stonehenge on Tuesday.
"English Heritage have invited us back to Stonehenge and we're honoured to be doing so," said Mr Rawlings.
"The 32 regiment have offered to move him to Stonehenge for us.
"There'll be guards there so you won't be able to climb all over him and then he's going to Hudson's Field in Salisbury to mark the Olympic torch event in July."
For the summer solstice, English Heritage will be providing managed open access to Stonehenge from 19:00 BST on Wednesday ahead of the sunrise at 04:52 BST on Thursday.