Thieves try to steal Highworth bowls green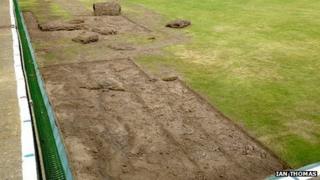 Thieves have wrecked part of a bowling green in Wiltshire by slicing off sections of turf.
Much of the green at Highworth Bowls Club, near Swindon, was left scattered in broken chunks as it was too dry to be rolled up.
Club chairman Ian Thomas said it would be at least two months before that part of the green could be used again, but said no fixtures would be cancelled.
Police said they had checked CCTV but had no new lines of inquiry.
The damaged green was discovered on Monday morning.
Mr Thomas said he believed it was "a concerted attempt to remove a substantial area of turf".
'Top soil laid'
He said: "With the already-dry grass bowling surface resting on very sandy soil bed, the thieves found the turf difficult to roll up, leaving behind many pieces that had simply broken up
"It can't be more than £60 worth of turf, but the damaged caused will cost rather more.
"It's obviously someone who doesn't know the difference between a bowling green and a lawn and wanted a bit of turf."
Mr Thomas said that after assessing the damage he believed they could play on four rinks in one direction and five or six in the other.
"Commercial green keepers have been in and laid some top soil in the affected areas," he said.
That will need to settle before new turf is laid next week.
"The green keepers also tell us we shouldn't then walk on it for about two months," Mr Thomas said.
"I asked if they'd come across it happening before and they said: 'Never'."
A Wiltshire Police spokesman said: "CCTV coverage of the area was checked as was the possibility of forensic evidence. However, no new lines of inquiry have been established."