NHS apologises over Luke Bitmead's death in Swindon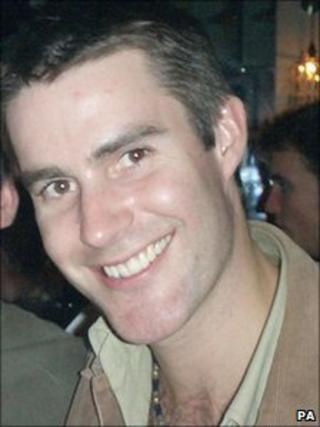 The mother of a man who leapt to his death after discharging himself from hospital has had an NHS apology.
Luke Bitmead, 34, died after staff at Swindon's Great Western Hospital helped him remove medical equipment before allowing him to leave in his pyjamas.
In a letter to his mother, the hospital trust said lessons had been learned following the case, in 2006.
In 2010, a coroner recorded a verdict of suicide on Mr Bitmead, an author, but the NHS had not failed him.
At the hearing, Mr Bitmead's family were concerned staff had not taken the step to detain him under the Mental Health Act.
Mr Bitmead's mother, Elaine Hanson from Gloucestershire told the inquest how she had taken him to hospital on 26 October that year after he had taken a potentially lethal dose of painkillers.
The hearing was told how hospital staff had helped Mr Bitmead remove a drip and monitoring equipment before allowing him to leave the hospital in the early hours of the next day, dressed only in his pyjamas.
He later jumped 30ft (9m) from a multi-storey car park, in Swindon.
In a statement, released after it sent the letter to Mrs Hanson, the Great Western Hospitals NHS Foundation Trust also said it had made "significant improvements" to the way it supports and manages patients with mental health needs.
Improvements include extensive extra training for clinical staff, and better links with other organisations involved in caring for people with mental health needs.
Mrs Hanson said the letter of apology from the NHS was something she had "prayed for".
She said: "People who want to leave hospital after they've tried to commit suicide should always leave into someone's care, and I think that would have saved Luke's life."
Mr Bitmead, who lived in Oxford, was the author of the books White Summer and Heading South.
A book Mr Bitmead wrote before he died is about to be published - and the proceeds will go toward a bursary for young writers, and to raise awareness of depression amongst young men.