Radio-controlled Spitfire achieves cross-Channel flight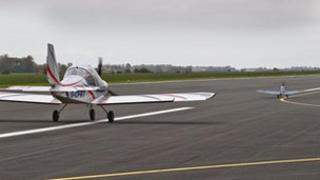 A Wiltshire man has crossed the English Channel while piloting a radio-controlled plane.
Mike Booth, of Marlborough, controlled his 1/4 scale model of a Spitfire from a light aircraft being flown alongside.
The replica plane, built by Mr Booth, took-off from Calais, France, on Friday for the 37-mile flight to the Manston Spitfire and Hurricane Museum in Kent.
The flight was conducted at 100mph and took about 42 minutes.
With a wingspan of 9ft (2.7m), the 19kg radio-controlled replica - designed and built by Mr Booth - is powered by an 80cc engine.
'Epic paperwork trail'
The £4,000 model was initially flight-tested at Clench Common airstrip, near Marlborough.
A previous Channel crossing attempt in October 2011 failed to get airborne from Calais due to fog on the Kent coast.
Mr Booth said: "I was determined to complete what I had started, it was an epic paperwork trail in France to get official approval, although all concerned, both sides of the Channel and my team, have been superb in their commitment and support."
The Spitfire was controlled by Mr Booth from a Eurostar ultralite, piloted by Chris Trow, an instructor at G.S Aviation at Clench Common.
The two aircraft took off in formation and Mr Booth said that although weather conditions had been "less than favourable", the flight had been "fantastic".