Westbury's greying hillside white horse to be repainted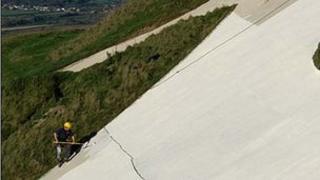 Work has begun to repaint a greying hillside white horse in Wiltshire.
The 175ft (50m) Westbury White Horse, which has become discoloured by lichen growth, is being refurbished in time for the Queen's Diamond Jubilee.
The horse, which last underwent a refurbishment in 2006, has already been steam cleaned by teams of volunteers abseiling down the steep hillside.
Permission has been granted by Natural England to repaint the monument.
Westbury Rotarian Steve Carrington, who has organised the work, said: "Where the paint's worn away, it's much more difficult to clean, which is why we're returning it to a painted finish so that it's easier to clean in a few years' time.
"And because the area is a Site of Special Scientific Interest it has to have zero environmental impact - that's why getting the clearance was so difficult."
Searchlight illumination
The horse carving is maintained by English Heritage and sited on a very steep slope, at an angle of almost 45 degrees.
Volunteers will be working both this weekend and next, to prime and apply two coats of special paint to the horse.
As part of Westbury's Jubilee celebrations, the town council is also planning to illuminate the carving with searchlights.
The horse is thought to have originally been carved into the hillside in 878 AD to commemorate King Alfred's victory over the Danes at the Battle of Ethandune.
A coat of cement was given to it in 1993 to halt its erosion and it was last painted six years ago.