Regent Circus demolition of Swindon College begins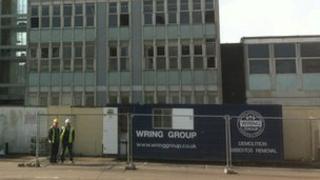 Demolition contractors have moved onto the site of a derelict college in the centre of Swindon to prepare for the removal of the building.
Once cleared, the Regent Circus site will be used for a six-screen cinema, a supermarket and eight restaurants.
Contractors from Wring Group Ltd are securing the site and have cordoned off the former car park, which will become their compound during the operation.
The building is expected to be completely demolished by late summer.
A spokesman for developers Ashfield Land, which acquired the site in 2006, said initially the contractors will have to remove any recyclable materials before the building is taken down "bit by bit".
The £50m project will include a 52,000 sq ft Morrison's store, eight restaurants, a 30,000 sq ft six-screen Cineworld cinema and a 450-space car park.
The spokesman said Prezzo has become the second national restaurant chain to lease a unit after Ask.
The former Victorian technical college will be turned into offices.
Work will begin on construction of the complex in the autumn for a spring 2014 opening.