Wiltshire morris dancers mimic heaviest flying bird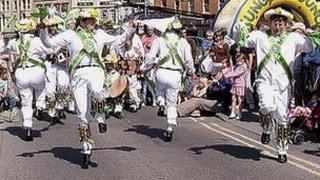 New dances that mimic the rare Great Bustard bird have been created by a Wiltshire morris dancing troupe.
The routines, which sees dancers imitating Bustard chicks and "flying out in V formation", have been invented to raise awareness of the Bustard.
The world's heaviest flying bird, hunted to extinction in the UK in 1832, was reintroduced to Wiltshire in 2004.
Andy Barrington, the group's founder, said: "We try to raise awareness of the Bustards every time we dance."
The group - Great Bustards of Wiltshire Morris - was launched by Mr Barrington in 2010 after the group he danced with folded due to a lack of members.
"I wanted to set up an absolutely unique side that would do things that no other side was doing," said Mr Barrington.
"It took three or four attempts to recruit enough people to begin with - but then it just seemed to take off."
Wearing green and gold costumes, reflecting the county's flag which features the bird, the group performs a number of "home-made Bustard dances" with axe heads.
'Corporate booking'
"One dance called the Bustards Nest, features the dancers taking on the role of the chicks, looking left and right for the parents bringing them food," said Mr Barrington
"And spinning round in their nest and stomping their feet when none is forthcoming.
"Another dance, Flights of Fancy, features dancers flying out in V formation to form a line up of dancers facing the audience - totally new in morris.
"But the reaction has been very good and believe it or not we've even got a corporate booking coming up."