Memorial plaque for 25 WWII 'friendly fire' victims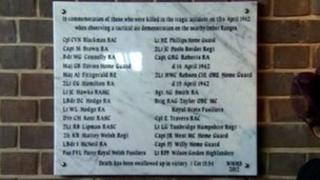 A 70th anniversary memorial plaque which remembers the victims of a 'friendly fire' incident in Wiltshire in World War II has been unveiled.
Twenty-five military personnel were killed when a Hurricane fighter pilot fired on spectators during a tactical demo on 13 April 1942 in Imber.
The pilot had mistaken them for dummies in poor visibility.
The Wiltshire Historical Military Society has funded the £1,000 plaque through donations.
Society secretary Rod Priddle said: "Wiltshire is rich in military history and certain events, such as this are worth remembering."
He added that the society wanted to "perpetuate the history of the military in Wiltshire for future generations".
Fire power
The area around Imber on Salisbury Plain has been used as a training ground by the British military since the early 20th Century.
The tactical air demonstration of fire power in 1942 took place on Imber Downs with a squadron of six Hurricane aircraft.
The pilot of the sixth plane to pass over the area mistook spectators for a row of dummy soldiers placed on the ground and opened fire.
Twenty-five officers were killed and 71 injured.
The 21-year-old pilot was later found guilty of an error of judgement by the Court of Inquiry.
The memorial plaque features the names of each of the officers who were killed.
It was unveiled by the Lord Lieutenant of Wiltshire, Sarah Troughton, at the Garrison Church in Imber Road, Warminster.