Sir Steve Redgrave in Devizes to Westminster canoe race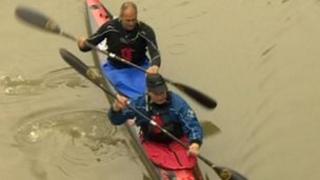 Olympic rowing legend Sir Steve Redgrave has joined hundreds of people taking part in the 125-mile (200km) Devizes to Westminster canoe race.
The yearly race is considered to be one of the toughest endurance challenges in the world.
It begins in Devizes, Wiltshire, on the Kennet and Avon Canal and traditionally takes place over the Easter weekend.
Sir Steve, 50, winner of gold medals at five consecutive Olympic Games, said he "just wants to get to the finish".
'Enjoyed the training'
Talking just before setting off, he said: "It's a funny sort of race. I'm used to quick blasts of 2,000 metres.
"I've enjoyed the training but I'm not looking forward to the race."
Sir Steve, who only took up canoeing last year, said the furthest he had paddled before was 55 miles (88km).
There are five classes in the event including a non-stop version of the race, which is the longest non-stop canoe race in the world.
The first 52 miles are along the Kennet and Avon Canal and the next 55 miles are on the River Thames. The canoeists will pass through 77 locks.
The current record time for completing the race is 15 hours and 34 minutes, set in 1979 by Tim Cornish and Brian Greenham.
The race ends on Monday at Westminster Bridge near the Houses of Parliament.