Last Titanic menu fetches £76,000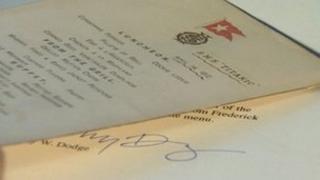 A menu of the last meal served to first-class passengers on board the Titanic has sold for £76,000.
It was among hundreds of items from the ship auctioned in Wiltshire ahead of the 100th anniversary of its sinking in the Atlantic Ocean.
The menu was dated 14 April 1912, the day the liner hit an iceberg and sank, killing 1,522 people.
It featured several courses, such as eggs Argenteuil, consomme fermier and chicken a la Maryland.
'Finest restaurant'
Auctioneer Andrew Aldridge said: "It's a fascinating snapshot of life on board as a first-class passenger.
"What we have to consider is that the Titanic was regarded as the finest restaurant afloat and this does illustrate that point. There are over 40 different options for one lunch."
The menu was on the table of the first-class passenger Dr Washington Dodge, a prominent banker from San Francisco who was with his wife and son. The letter had been in Ruth Dodge's purse when she escaped on board a lifeboat.
She and her son survived the tragedy.
Other items sold at the auction included a set of keys for the storeroom where the ship's lifeboat lanterns were kept.
The keys, which were used by crewman Samuel Hemming, sold for £59,000 to an American collector.
"The keys themselves played a part in the story as they were actually used in those last desperate hours," said Mr Aldridge.
"This is because Mr Hemming received a personal order from the captain as the ship was sinking and it became apparent all was lost to ensure all of the lifeboats were provided with lamps."
One letter auctioned off for £29,000 to a UK collector was written by the second in command of the Titanic, Chief Officer Henry Wilde.
Mr Wilde was deputy to Captain EJ Smith and died in the disaster.
In the letter to his family, written on Titanic letter-headed stationery, he praises the Titanic, describing her as a "wonderful ship the latest thing in shipbuilding".
A second letter, which sold for £39,000, was written by James Arthur Paignton, the captain's steward.
The auction took place at Henry Aldridge and Sons auction house in Devizes on Saturday afternoon.