Pensioners to scrub Westbury's white horse clean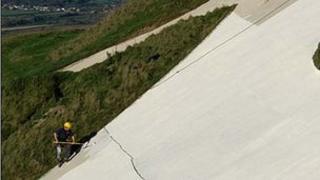 Rotary club members with an average age of 72, have volunteered to abseil down and scrub a Wiltshire hillfigure.
The Westbury White Horse has greyed and "deteriorated substantially" since it last underwent a refurbishment in 2006.
Now, with a £10,000 grant, local Rotarians have agreed to be lowered onto the "grubby" horse to clean it in time for the Queen's Diamond Jubilee.
Susan Hill-Bird, club secretary, said despite the volunteers' "trepidation" it "needs to be done".
"We'll be hanging off the end of a rope for half an hour at a time with power washers strapped to our backs - scrubbing," she said.
"And we're all of a certain age - so I've told everyone to make sure their life insurance policies are somewhere where their wives can find them."
The 175ft (53m) horse carving is maintained by English Heritage and sited on a very steep, almost 45 degree angle, slope.
It was given a coat of cement in 1993 and in 2006 repainted but is now, according to Ms Hill-Bird, "so grubby - it looks awful".
"We can't use industrial cleaners because we can't disturb the ecology," she said.
"So we'll be using fresh water with a bit of washing up liquid and scrubbing brushes but tests on the algae seem to show that it is going to be enough."
A "practice run" is planned on the hillside on Thursday and Friday and the 14 volunteers are due to be "suspended on the white horse" over the next three weekends.
"We have to be instructed in how to sit in the harnesses and how to get up and down," she added.
"But hopefully the weather won't be too inclement and we can do it before we lose our nerve."
Once restored, the town council is planning to illuminate the carving with searchlights as part of Westbury's Jubilee celebrations.
Westbury's horse is said to be the oldest in Wiltshire. It was restored in 1778, but many believe it is far older than that.
It is thought to have been originally carved in 878 AD to commemorate King Alfred's victory over the Danes at the Battle of Ethandune.