Great Western Hospital 'bullying' strike halted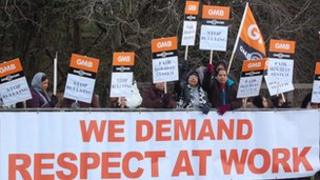 GMB union members have agreed to halt strike action while allegations of bullying at Swindon's Great Western Hospital are investigated.
The latest seven-day strike by cleaners, who are in dispute with employers Carillion, ends on Friday.
Carillion are planning a new round of staff interviews next week to further investigate the matter.
GMB said it will temporarily halt further action in an "act of good faith" so the interviews can happen.
The union's Andy Newman said: "We are not going to call any further strikes while these interviews take place.
"But we are still committed to the campaign continuing until we are satisfied with the outcome."
A spokesperson for Carillion said: "The company continues to make every effort to resolve the issues that have been raised by some of its employees.
"With the latest period of strike action coming to a close tomorrow, we now look forward to meeting with our employees next week so that we can work together to find a solution."
GMB submitted a formal complaint by 109 members of staff over allegations of managerial bullying in December.
Workers taking action are predominantly cleaners, but also include porters and catering staff.
By Friday, workers will have staged a total of 18 days of strikes.