Bikers in final Ride of Respect through Wootton Bassett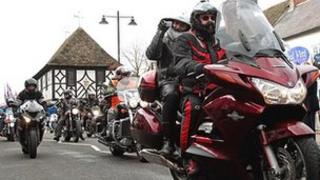 About 4,000 motorcyclists have driven through Royal Wootton Bassett in thanks to the town for supporting the families of soldiers killed in action.
It is the third and final Ride of Respect through the Wiltshire town as repatriation flights moved from RAF Lyneham to Brize Norton last year.
Each rider made a donation towards 10 military charities and last year the event raised more than £125,000.
Mayor of Royal Wootton Bassett Paul Heaphy said he was "incredibly proud".
He said: "I was chatting to one lady as the bikers were coming through, and she was in tears.
"And she said - isn't it amazing that these people want to come and say thank-you to us."
In 2010, when the event was held for the first time, 16,000 bikers took part, with pillion riders taking the total to 23,000.
This year it was estimated that about 4,000 motorcyclists made the ride through North Wiltshire from Hullavington to junction 16 of the M4.
Anne Cole, one of the event's co-organisers, said without the support of the town "the Ride of Respect would not have been possible".
'Best Mother's Day'
"We wanted to congratulate the town on getting its royal title, salute our tri-service personnel and most importantly raise funds for military charities," she said.
"And we're very grateful to have had the well wishes of so many local people."
Local resident, Carol King, said it was one of the best Mother's Days she had ever had.
"It certainly beats sitting at home," she said.
"They say it's the last year but I don't think it will be - and I'll do it again next year if there is one."