Striking Swindon Great Western Hospital workers in march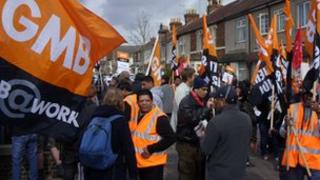 More than 200 people have marched through the centre of Swindon in support of workers on strike from the town's Great Western Hospital.
Around 130 cleaners and porters are starting seven days of strike action in a dispute with their employer over bullying allegations.
It is the next phase of action against Carillion by GMB union members who have already staged 11 days of strikes.
Carillion said it took matters of bullying "extremely seriously".
The union submitted a formal complaint by 109 members of staff over allegations of bullying in December.
GMB's Andy Newman said: "We need to move to a culture where there is no toleration of bullying anywhere.
"I do hope that people are encouraged by the fact that hundreds of people are prepared to come on to the streets and say that."
Workers taking action are predominantly cleaners, but also include porters and catering staff.
In a statement earlier, a spokesperson for Carillion said it took "matters of bullying and harassment extremely seriously".
"In line with our policies and procedures, the collective grievance is being fully investigated," the spokesperson said.
"Unfortunately the number of strike days will interfere with our investigations if employees are unwilling to attend meetings on those days to discuss their concerns."
The GMB organised event culminated in a rally at Wharf Green.