Honda looking to stop disruption at Swindon plant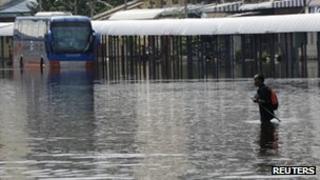 Honda is looking at ways to prevent production at its plant in Swindon from being cut after natural disasters in Asia caused disruption last year.
In April, workers scaled back production to two days a week after the earthquake and tsunami in Japan.
Flooding in Thailand then stopped production at the factories that make some electronic components for cars built at the Wiltshire plant.
Over 3,000 staff worked reduced hours from September to November.
In August, Honda reported an 88% plunge in first-quarter profits after the 11 March earthquake and tsunami in north-east Japan.
This caused a shortage of car parts and disrupted its supply chain.
'Honda has a "just-in-time" production strategy which relies on manufacturers producing only what is needed, minimising the level of inventories.
Parts are not kept in stock but are planned to arrive from a supplier precisely at the time they are required for specific use.
Honda spokesman Paul Ormond said relying on one location for certain parts had caused big problems.
He said: "[With] two major catastrophies like this, Honda globally is looking at how we might modify the whole just-in-time system.
"It has worked very well but 'dual sourcing' is perhaps something that is a way forward."
Under dual sourcing, two suppliers are on hand at any given time so a product will always be available and prices can be compared.