Book of condolence for soldiers killed in Afghanistan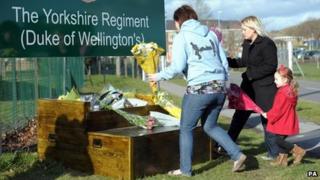 A book of condolence is planned after six UK soldiers were killed in an explosion in Afghanistan.
A vehicle carrying the soldiers from the 3rd Battalion the Yorkshire Regiment and 1st Battalion The Duke of Lancaster Regiment was hit on Tuesday.
It is the biggest loss of UK life in one incident in Afghanistan since 2006.
The mayor of Warminster visited the gates of Battlesbury Barracks earlier and spoke of the plans for the book.
The 3rd Battalion the Yorkshire Regiment is based at Battlesbury Barracks in Warminster and The Duke of Lancaster Regiment is based at Somme Barracks in Catterick, North Yorkshire.
During a brief visit to the gates of the barracks, Mayor of Warminster Pip Ridout told gathered journalists of the plans for the book.
'Terrible tragedy'
James Gray, Conservative MP for North Wiltshire, has also expressed his condolences.
He said: "It is a terrible tragedy for the families of the fallen soldiers, for the community around Warminster and for their comrades in arms in the regiment.
"Having attended the sad repatriations through Wootton Bassett, I know of the effects a tragedy such as this can have on the community.
"The prime minister joins me in passing our condolences."
Kris Hopkins, Conservative MP for Keighley and Ilkley, said he was "absolutely devastated by this news".
"As a former member of the Duke of Wellington's Regiment, I was invited to have lunch with officers of 3 Yorks only two weeks ago in advance of their departure to Helmand," he said.
'Enormous sadness'
"The loss of five men, together with a colleague from the Duke of Lancaster's Regiment, is a devastating blow to everyone out there.
"My sympathies go out to them all and, most importantly, the families of those brave soldiers who have lost their lives serving our country.
"Their sacrifice will never be forgotten."
The Minster Church of Saint Denys in Warminster opened for prayers and so that people can light candles. The flag there is flying at half mast.
At 17:00 GMT a short service was held in which about 30 people joined in with special prayers and readings.
During the service, the Reverend Harvey Gibbons, from the church, said: "Like a lot of people I stand here in confusion, trying to understand what happened and how we can help.
"I think the answer to that is by standing together as a community."
'Our boys'
Earlier at Battlesbury Barracks, two uniformed soldiers renewed a candle, the idea of the wives and partners of the soldiers to act as a vigil for their loved ones, which is burning next to the gates.
It was first lit when about 90 soldiers from the battalion's Corunna Company were deployed to Afghanistan less than a month ago.
It will remain lit until the last member of the battalion returns to the base.
BBC reporter Sarah Jones said the regimental flag was at half mast and residents had begun bringing flowers to the site.
One tribute said: "Dear 3 Yorks, tragic news. Warminster is proud and will always consider you "our boys"."
Lee Thomas, 43, from Warminster, also laid flowers to show his respect.
He said he felt "shock and sadness - any loss is tragic".
"It's so sad. They were only young lads," he said.
The regiment recruits from across Yorkshire.
Eddie Morton, chairman of the Spenborough branch of the Royal British Legion in West Yorkshire, said: "It's always sad to hear of the death or injury of our fighting forces, but particularly poignant that our local regiment is concerned.
"It reminds us every day of the dangers our personnel are facing and we often wonder why.
"In a world of high technology and super invention somebody would come up with a way of dealing with roadside bombs - it just seems to be the most basic of armaments.
"We're continually told about our amazing equipment, but there's nothing to effectively stop these devices and if we're going to stay much longer we need to get to grips with this.
"The legion wouldn't have thought its work was needed 90 years after it was set up, but we'll be there to support families of deceased servicemen when and how they need our help."