Salisbury's 100-year-old sewer system is renovated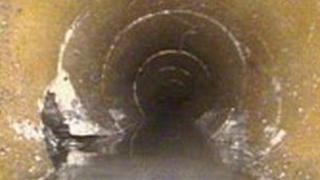 A £200,000 project to repair a 100-year-old sewer system in Salisbury has been completed.
Nearly 500m (1,640ft) of pipes had to be relined or replaced after damaged areas were found during an inspection carried out using CCTV "robots".
Alex Aulds, from Wessex Water, said if nothing was done then there was a risk the sewers could collapse or burst.
During the project some temporary road closures and traffic diversions were put in place.
Mr Aulds said the work had been completed on time because the company had used "trenchless techniques" which avoided having to dig the road up along the entire length of the sewer.
He said in places Wessex Water had relined the existing sewers with a resin-like substance - hardened with ultra-violet light - producing a "pipe within a pipe"
He said if traditional techniques had been used, the work, which started in mid-January, could have taken about four months to complete and would have caused significant traffic disruption.
"The sewers now have an expected longevity of 100 years and the work will ensure that any future risk of collapse or damage is significantly reduced," he added.
The work took place in Brown Street, Winchester Street, Blue Boar Row and Castle Street.