No charges in fatal polar bear attack inquiry in Norway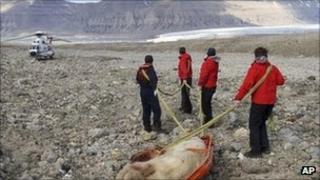 Organisers of an Arctic expedition in which a Wiltshire boy was killed by a polar bear will face no charges.
Horatio Chapple, 17, from Salisbury, died on an expedition to Svalbard organised by the British Schools Expedition Society (BSES) last year.
Svalbard's governor has ruled the death resulted from "a number of unfortunate circumstances" and BSES did not act negligently under criminal law.
Horatio's parents are appealing against the Norwegian authorities' decision.
The investigation carried out by officers at the governor's office found that tripwire flares set up around the tent camp had failed to detonate when the bear entered the camp, despite being tested beforehand.
It also found that by the time group leader Michael Reid had fired the rifle, the 17-year-old had already been killed.
In a statement, a spokesperson for the governor's office said: "The governor does not find that BSES or the individuals acted with a degree of negligence qualifying for criminal liability.
"The case is therefore dismissed as no criminal offence."
Horatio's father David Chapple, a consultant spinal surgeon in Salisbury, is appealing against the governor's decision with the public prosecutor's office of Troms and Finnmark.
Edward Watson, chairman of BSES, said he would not comment on the governor's report until an independent inquiry being chaired by High Court judge Sir David Steel had been completed.
He said in a statement: "BSES has received the official police report from the governor of Svalbard into the tragic death of Horatio Chapple.
"Those most closely affected, particularly the Chapple family, remain uppermost in our thoughts at this especially difficult time for them."
Mr Reid, 29, from Plymouth, Andrew Ruck, 27, from Brighton, 17-year-old Patrick Flinders, from Jersey, and 16-year-old Scott Bennell-Smith, from St Mellion in Cornwall, were also injured in the attack.