Sir Edward Heath's home Arundells allowed to reopen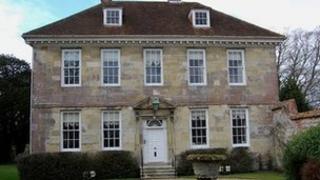 Former Prime Minister Sir Edward Heath's Salisbury home is to reopen to the public despite objections being raised by Salisbury Cathedral.
The cathedral's chapter opposed plans to reopen Arundells claiming it would "change the character of the area".
But Wiltshire Council has granted permission for the house to reopen for three years from 26 March.
Tony Burnside, from Friends of Arundells, said it was "wonderful news for Salisbury".
The house in Cathedral Close, where Sir Edward lived for the last 20 years of his life, was left to the nation and opened to the public in 2008.
It attracted more than 45,000 visitors in less than four years but trustees of the Edward Heath Charitable Foundation said that it was not financially viable to keep open.
'Right has triumphed'
The foundation wanted to sell the property but the sale was blocked by the Charity Commission last September.
Following the commission's ruling, the foundation agreed to test the "feasibility of a three-year business plan" and applied to the council to reopen the property from 2012.
On Monday, permission was granted following a public consultation which attracted more than 150 letters of representation including a letter of support from Lord Howe.
Tony Burnside, from Friends of Arundells, said: "It's been a very long campaign - 21 months - but right has triumphed and this gift to the nation has been restored to its rightful place as a visitor's attraction for the public.
"The council has responded to the overwhelming numbers who supported this planning application - 153 letters were sent and 144 were in favour.
"It is wonderful news for Salisbury that we'll be open again on 26 March."