Lead theft pressure on 'congregations to pay church repairs'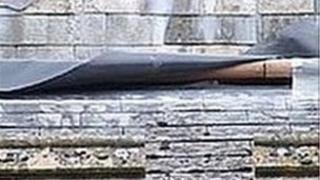 A church leader in Salisbury has said the growing problem of lead thefts from churches is putting congregations under pressure to pay for repairs.
Since January seven churches have been targeted in the Salisbury diocese area.
Archdeacon of Sarum, the Ven Alan Jeans said: "They're spending far too much time worrying about thefts rather then how they can improve the way of life for people in the community."
He has pledged that no church would close down because of lead thefts.
'Cheaper solutions'
"I'm optimistic that we will continue to work with the conservation and heritage lobbies in finding cheaper solutions to roof repairs and temporary solutions that will get a parish church repaired so it can still be used for the purpose they were built for years ago," the archdeacon said.
"Clearly the amount of time and energy that now has go into fund-raising is a concern, but I'm absolutely convinced that the role and function of our churches will continue, even if we have to put thatch or felt back on as a temporary solution."
At the beginning of February, about three tonnes of lead was stolen from St Swithin's Church, a Grade I listed building, in Compton Bassett.
The Reverend Philip Bromiley said: "We're really concerned to make sure that we continue to keep this building as open and accessible as possible to the whole community.
"It's so important that we realise that this building being damaged in this way is not something that is damaging the church and the church bank account, but is actually damaging for the whole community, because it belongs to the whole village.
"We don't just have worship but have baptisms, weddings, funerals and concerts, and it's important this resource is used for everybody not just the few who worship on a Sunday."
A public meeting will be held on 12 March at St Paul's church in Salisbury to discuss the problem.