Parson Francis Kilvert's photo album sold in Chippenham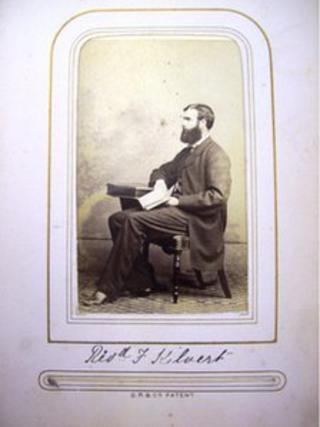 An album of photographs of the Wiltshire-born diarist Robert Francis Kilvert has been sold to the Kilvert Society for £1,000.
The album features the Victorian country parson, who was known as Francis, and members of his family.
Secretary of the society, Alan Brimson, said: "It contains the only portrait of him so it is a rare album."
Chippenham Museum will receive the album on loan to use it as part of an exhibition on the diarist, in May.
'Worthwhile addition'
"The album is dated 1861, but we think it's a family album and it could well have belonged to his grandmother as it contains a lot of Kilverts in there, as though it's the greater Kilvert family who lived in Bath," said Mr Brimson.
"It's in very good condition, it doesn't require any conservation work and there are some great Victorian portraits so for the society it's a worthwhile addition and we are delighted to get hold of it."
The Kilvert Society bought the album from an anonymous seller, who got it through a dealer in Scotland and bought it to make sure it was sold in the author's homeland.
The son of a clergyman, Mr Kilvert was born at the Rectory in Hardenhuish Lane, near Chippenham in 1840 and wrote his diaries, which described rural life, between 1870 and 1879, when he died.
Although he is known for his links to Wales, the Kilvert Society is keen to raise awareness of his links to the Chippenham area.
The album was sold earlier at Chippenham Auction Rooms.