Swindon Borough Council cuts union jobs amid protests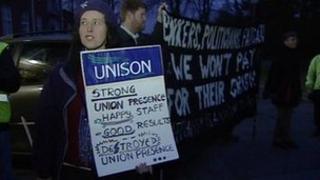 Swindon council has cut the shared job of two union representatives as part of £15m worth of cuts.
Councillors, who met to finalise the council's budget, said in the current economic climate, they should not have to pay their staff to do union work.
The full-time post shared by officials from public sector union, Unison, Bob Cretchley and Karla Bradford will go in April.
A Unison spokeswoman said she was "disappointed" at the decision.
She said the union would now speak to the council to "find a way forward".
The two workers are elected by local Unison members and their sole duty is to carry out trade union duties at the council.
They are the only publicly-funded union members within the council.
Speaking prior to the budget meeting, Council Leader Rod Bluh said: "This is purely a cost-saving measure. We don't believe that the cost is justified.
"We already have 20 union reps locally working in the council who we believe can undertake this work."
About 40 Unison campaigners protested outside Swindon Borough Council's offices on Thursday.
The union said members from Bristol, Gloucester, Dorset, Devon and Cornwall turned up to the protest.