Ex-PM's Salisbury house not 'vanity project' says curator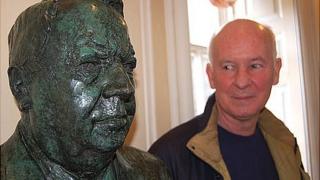 "I looked after the grounds, the house and than eventually him in his later years," says Stuart Craven the curator of Sir Edward Heath's Wiltshire home.
Arundells, in Salisbury, was the first and only house owned by the former prime minister and on Monday is now due to reopen again to the public.
"It hasn't changed, this is how he left it," said Mr Craven who has been on the household staff for 26 years.
"It's not a vanity project - it's an important part of our heritage."
Sir Edward was prime minister from 1970 to 1974 and is perhaps best remembered for taking the UK into the European Community (EEC).
He spent the last 20 years of his life at Arundells and its contents are almost as they were when he lived there.
Sniper landscaping
Mr Craven, along with a former security guard and house keeper, are among the guides offering a more "personal aspect" of the former PM's home.
"I actually came as part of a landscape design team in the 1980s to help re-design the garden," said Mr Craven.
"We had instructions to turn the garden round slightly - so he wasn't viewed from the water meadows opposite in case he could be shot at from over there."
It was not the only security feature of the 18th century Grade II* listed property in Cathedral Close.
The building was also equipped with a strong room - where the former prime minister could retreat if under attack - which "fortunately was never used".
Two full-time armed guards and a Metropolitan police guard were housed in the converted garages to protect the politician.
Mao, Castro and Nixon
"It never really occurred to me to be worried," said Mr Craven.
"Although we did get some intruders in the garden - and you felt suddenly that you were vulnerable - but when you'd go down there they'd be spread eagle on the ground with a gun pointed at their head."
As a former prime minister, the Home Office was responsible for Sir Edward's security until his death in 2005.
"In the last couple of years of his life we had 24-hour nurses here and we had a stairlift," said Mr Craven.
"But he still used to go out to different pubs in and around Salisbury every night, with the armed guards, he just used to love the company."
The historic house was left to the nation and opened to the public in 2008, with the emphasis on the house as a home rather than a museum.
The rooms are filled with mementoes of Sir Edward's trips to China, Cuba and the US and his meetings with international leaders and celebrities from Mao to Castro and Nixon to Shostakovich.
"The photographs on the piano are just as they were and illustrate his life through the 1970s - there's the Queen Mother, various popes, Indira Ghandi, Chairman Mao, Richard Nixon, Clinton and Castro," said Mr Craven.
"And when he wanted to play the piano, he had to move them all off and move them back to the same place - although some people had priority, like the Queen Mother of course."
And among his collections of paintings are two works painted by Sir Winston Churchill, one of which was partly destroyed when the IRA threw a bomb through Sir Edward's balcony in Wilton Street in London in an assassination attempt in 1974.
"It's a unique collection of a 20th Century politician - and I dare say I wouldn't find the same in current politician's houses," said Mr Craven.
"A lot of the press have said that it is a museum to himself but it's not a vanity project - I think it adds something to our history of the 20th Century."