Carillion manager resigns prior to strike at Swindon hospital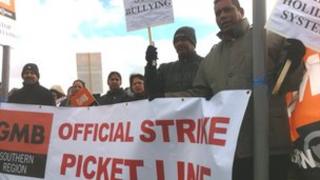 A manager at Swindon's Great Western Hospital (GWH) has resigned prior to a 24-hour strike by support workers.
Porters, cleaners and domestic staff walked out on Tuesday over allegations of managerial "bullying and harassment" by contractor Carillion.
A Carillion spokesman confirmed "with regret" the unnamed manager's resignation.
He said Carillion was "disappointed" that despite talks with the GMB Union on Monday, the strike was going ahead.
A 24-hour walkout took place last week and a third strike was planned for Thursday.
A further three dates have been set from Monday, 27 February.
Andy Newman, from the GMB, said he was pleased that the manager had resigned but he was "disturbed" that Carillion "is not accepting that there is a culture of bullying and harassment at the hospital".
He added that GMB and Carillion needed to work together to "review the processes".
Paolo Fernandez, 52, is a GMB union member and support worker at GWH.
Speaking on the picket line at the entrance to the hospital, Mr Fernandez said he and his colleagues would continue striking until they were satisfied with Carillion's response to their action.
He said: "We are not satisfied that they have taken the appropriate action against the accusations of bullying."
'Thorough investigation'
GMB said on Monday it had submitted a formal complaint by 109 members of staff over allegations of bullying in December.
Carillion said it had carried out a thorough investigation into the allegations.
Mr Newman said Tuesday's strike was taking place as "no substantive resolution on any of the issues that the strike is about have been reached".
He said: "It's not too late to avert Thursday's strike. We're available for immediate talks today or Wednesday."
The Carillion spokesman said: "In line with our policies and procedures, we have carried out a thorough investigation into the collective grievance received from GMB members and take all the matters raised very seriously.
"We have conducted in the region of 100 interviews as part of this process and some of the matters raised require further investigation, which we hope to be able to conclude later this week."
The firm said it had "robust contingency plans" in place to deal with industrial action and said it was "confident that patient care and the efficient running of the hospital will not be compromised by the strike action".