National Cycle Network at Longleat 'blocked off'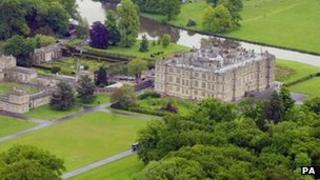 Part of the National Cycle Network in Wiltshire will be diverted if an access agreement with the Longleat estate is not reached, operators have said.
It follows reports from cyclists that they have had problems with access to the route and signage has been removed.
Sustrans, which runs the route, said a 10-mile-long detour via Maiden Bradley would have to be introduced.
Longleat refused to comment but said it would issue a statement clarifying its position on Friday.
A two-mile long track, which runs through the Longleat estate, is currently used as part of route 24 of the National Cycle Network, which stretches from Bath to Southampton.
'Difficult access'
The route was established in 1997 after an agreement was reached with Lord Bath, who owns Longleat.
In the past few years, Lord Bath's son has taken over the management of the estate.
Alistair Millington, from Sustrans, said cyclists had reported problems with access in the past few days.
"Barriers have been erected making it more difficult to allow access and National Cycle Network signage has been removed," he said.
He said Sustrans would have to consider rerouting the network if Longleat continued to restrict access.
"There is one route option we can use approximately four miles south west of the estate. It would be about a 10-mile detour and go via Gare Hill and the village of Maiden Bradley," he said.
Cyclist Mike Darville, from Frome, said he had used the route "two or three times a week" for the past five years but had been stopped by a security guard on Sunday.
"He said 'Cyclists can no longer go through here. All the cycle routes are closed'.
"I'd be disappointed if it was closed permanently. It keeps me fit."