Francis Kilvert's photo album to go under hammer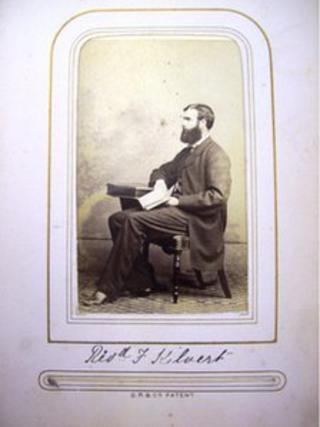 An album of photographs of the Wiltshire-born diarist Robert Francis Kilvert is to be put up for auction.
Dating to 1861, the album features the Victorian country parson, who was known as Francis, and members of his family.
The anonymous seller found the album through a dealer in Scotland and has brought it to be sold in the author's homeland.
It is due to go under the hammer at the Chippenham Auction Rooms on 25 February.
The son of a clergyman, Kilvert was born at the Rectory in Hardenhuish Lane, near Chippenham in 1840 and wrote his diaries, which described rural life, between 1870 and 1879, when he died.
Auctioneer Richard Edmonds said he believed the album had belonged to Kilvert's grandmother.
He said the leather-bound album, with a brass clasp, was in good condition and contained about 45 family portraits, including one signed by Kilvert.
"I am sure it will attract interest from across the globe," he said.
The album is expected to fetch £1,000-£1,500.