Street light switch off in Swindon is halted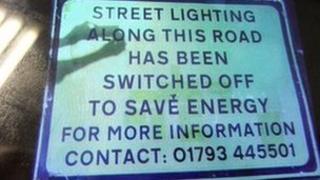 Hundreds of street lights in Swindon which were turned off to save money are being switched back on.
Swindon Borough Council said the authority felt it was not worth continuing due to the number of concerns being raised by the public.
The experiment was supposed to save £20,000 in energy bills - but it will cost £30,000 to reverse the decision.
Councillor Rod Bluh said many of the lights in the trial were old and would need replacing before the switch on.
"If something is universally unpopular and there is no public support we do listen to residents.
"As councillors, we do have to look at their views as well as the corporate interests.
"On balance we don't think this is important enough to cause the upset it seems to be causing.
"A lot of the ones in this area needed to be replaced and during the trial several had to be taken down because of their poor structural condition."
Speaking at the start of the trial last July, a spokesman for the Conservative-led authority said 433 out of a total of 26,000 lights in the town would have their fuses taken out.
The decision was part of the council's plan to save cash and reduce its carbon footprint.