Speeding drivers caught 15,000 times by Wiltshire volunteers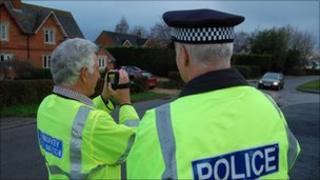 Volunteers in Wiltshire have caught drivers speeding 15,000 times in the county in the last year.
Sixty Community Speed Watch groups are in force countywide and volunteers went out 1,700 times in 2011.
They monitor traffic speed, noting down details which are passed to police. Officers can then write to drivers.
Last year 11,700 letters were sent out resulting in 18 police cautions, six fixed penalty notices and three people were taken to court.
A new scheme is being launched in Blunsdon, a village in the borough of Swindon, with new volunteers trained to use the monitoring equipment.
"We're hoping that if the same vehicle gets clocked the police will be able to do something about it and people, eventually, will curb their speed," said Sandra Keates, parish councillor and Speed Watch volunteer.
If there are lots of reports of speeding in one location, or if an individual driver gets three warning letters, Wiltshire Police will do their own speed checks.
'Negative' attitudes
Speeding drivers then risk a fine or prosecution.
"It's not a solution to road safety in general but it's a tool that we can use that empowers the community to actually go out and promote road safety in their area," said Elizabeth Ngero, Wiltshire's Community Speed Watch coordinator.
"They're the ones that live in the area. They have to go out on those streets, they have to cross the roads, walk their dogs, pick up the litter, and some of those places don't even have pavements.
"So it's more about the people that live in the community doing something to actually improve the road safety in their area."
Mrs Ngero admitted that some volunteers had been subjected to "negative" attitudes from drivers.
"What I would say to them is that they should be sticking to the law," she added.
"For some reason people feel like they have to break the law when it comes to speeding and that shouldn't be right."
The unit in charge of speed cameras in Wiltshire and Swindon closed in 2010, with the loss of 40 jobs.
Swindon's council was the first English local authority to abandon fixed speed cameras a year previously.