Three sets of twins play on Wiltshire school rugby team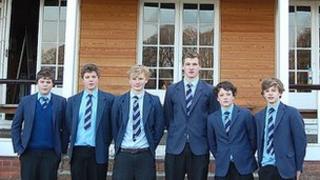 A Wiltshire rugby team with three sets of twins in it has made it through to a national semi finals.
Dauntsey's School in West Lavington near Devizes is playing in the Daily Mail Vase competition.
Team captain Will Britton, whose brother Alex is on the team, said: "I haven't come across any other teams that have got so many twins in them."
The team also contains Andrew Duckworth and his twin Rowan and twins Sam and Ed Tomlin.
"It's probably a bit difficult for the opposition because it can cause a bit of confusion," added Will.
"But it probably does help to have a close knit group of people."
'Come on Ducky'
Coach Marcus Olsen said it was "very, very unusual".
"We've actually got four sets of twins in the year group but I think it's a very unusual situation to have three sets of twins actually in a team of 15.
"Andrew and Rowan are very similar players and look very, very similar and on a muddy day it can be very hard to chose between the two.
"Their surname is Duckworth and so I often shout 'come on Ducky' and then you know you haven't got it wrong."