MoD reveals RAF Lyneham defence training centre plans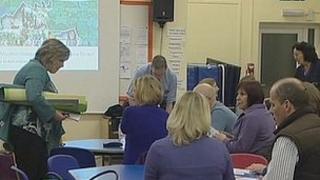 Plans by the Ministry of Defence (MoD) to turn RAF Lyneham in Wiltshire into a defence training centre have been outlined at a public meeting.
About 100 residents attended the meeting in Lyneham on Wednesday and were told that remaining RAF personnel at the base will leave in September.
The MoD also confirmed that the centre would be operational before 2015.
But Councillor Allison Bucknell said there were still "issues with a lot of the community facilities".
The MoD made the decision to close RAF Lyneham in 2002 as part of a strategic review of military bases.
'First phase'
It had been thought the MoD would sell off the base.
But last year it was announced that the Defence Technical Training Change Programme centre in Shropshire would be moved to RAF Lyneham.
Captain John Sunderland, from the MoD, said "the intention is to start technical training from 2015" but the time scale was "yet to be determined".
He said: "We call it defence technical training and it's training throughout the careers of navy, Army and airforce staff in three branches of engineering, aeronautical, electro-mechanical, and communications and information systems.
"It will only be the first phase - probably electro-mechanical engineering - from 2015."
Conservative councillor Allison Bucknell said she thought it was "a really positive thing for Lyneham".
"But we've still got issues with a lot of the community facilities that have recently been provided by the RAF, for example some of the pre-schools," she said.
"So a lot of the community are concerned that they are going to be closing down and that there's no provision at the moment to replace those."