Former RAF Lyneham employee uses old paint to sculpt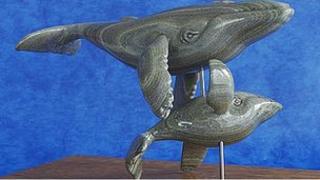 Solid paint, built up over 14 years in the extraction fans of a former Wiltshire airbase, is being sculpted into artwork by a former RAF employee.
Darren Wilson, from Calne, was a senior aircraftsman and a paint sprayer at RAF Lyneham before its closure in 2011.
When the base relocated, Mr Wilson decided to save the solidified paint in the base's spray bays and sculpt it.
He said: "I don't think I would have taken this so seriously if I hadn't lost my job."
Lyneham was the home of the Hercules for 45 years and was synonymous with the giant air transporter.
But when 1,400 military personnel and 33 Hercules were relocated, Mr Wilson was made redundant.
He said: "I served in the airforce and worked at Lyneham but when I lost my job last year I decided to do something about it.
"I'm new to sculpting but I've been working with this 'unique' medium for about 18 months and seem to have taken to it like a duck to water."
The 'unique' medium is made up of hundreds of thin layers of spray paint, built up over 14 years and "hacked off" from the workshop floors at RAF Lyneham.
"It's polyurethane paint - the over-sprayed paint from respraying the Hercules aircraft and ground equipment - that has solidified on the steel grids of the spray bays," said Mr Wilson.
"It's roughly a centimetre deep with hundreds and hundreds of layers of paint - including layers of desert sand paint from the Gulf War."
The raw material, he describes it as "fossilized seaweed", is sanded and lacquered by Mr Wilson to resemble stone and sculpted into jewellery and ornaments.
"It has the appearance of heavy stone but it's just paint so it's incredibly light," he said.
"I don't think anybody else is using paint - old paint - to sculpt with so I'm just seeing where I can go with this."