Troops from 9 Regiment given freedom of Chippenham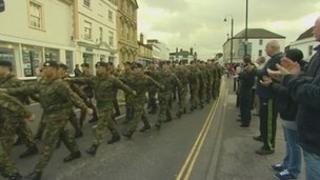 Six hundred soldiers from 9 Regiment, The Royal Logistic Corps, have marched through Chippenham to celebrate being given the freedom of the town.
The town's lord mayor and the Lord Lieutenant of Wiltshire presented 150 of the troops with medals to mark their recent service in Afghanistan.
There the regiment provided support to British forces with weapons, fuel, rations, medical supplies and water.
Most of those on parade were stationed in Helmand Province.
Others operated from Kabul and various forward operating bases in Helmand Province.