Gloucestershire County Council reveals new library plan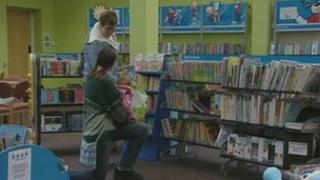 Revised plans to save £1.8m from library services in Gloucestershire have been unveiled.
The county council's previous plan to stop funding 10 libraries was reversed after it was judged unlawful at the High Court.
Now, it proposes to end funding for seven libraries but continue to staff and run Matson and Tuffley libraries in Gloucester and Hesters Way, Cheltenham.
A six week consultation is due to begin on 30 January.
The draft strategy involves "a network" of nine main libraries being open six days a week, and 12 local libraries open five days a week.
It would also feature 10 partnership libraries run by the county in partnership with communities and seven Community Offer Libraries available to the community "under an enhanced Big Community Offer".
'Deeply disappointing'
Campaigner John Holland, who is a member of Friends of Gloucestershire Libraries group, said: "These are very serious cuts that seriously undermine the public library service in Gloucestershire.
"We know that three of our poorest most disadvantaged communities are going to keep their libraries - great news - but beyond that very similar to the recommendations the last time which is deeply disappointing.
"It's noticeable that the council's methodology has improved this time but we will refer this to our lawyers and take it from there."
Council leader Mark Hawthorne said the Conservative authority had already saved "£1m in the back offices of libraries to try to minimise the impact on the front line" but libraries needed "to make their fair share of savings".
"We've got some really tough decisions to make in our overall budget and libraries can't be excluded from that and I don't think it will be realistic for anyone to expect that libraries shouldn't be delivering a saving," he said.
"It's up to Friends of Gloucestershire library to decide what they want to do next but I would encourage them to actually engage in this consultation process."