Plans to reopen Edward Heath's Salisbury home Arundells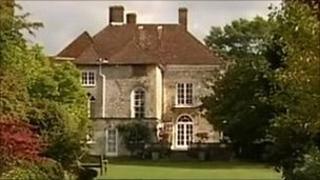 Lord Geoffrey Howe has joined the campaign to reopen former Prime Minister Sir Edward Heath's Salisbury home as a tourist attraction.
The foundation which owns Arundells wanted to sell the house because it could not afford to run it but the sale was blocked by the Charity Commission.
Trustees have now applied to Wiltshire Council to reopen the property, which is currently closed, for three years.
Lord Howe said he was "anxious for the house to remain open to the public".
The historic house in Cathedral Close, where Sir Edward Heath lived for the last 20 years of his life, was left to the nation and opened to the public in 2008.
Despite attracting more than 45,000 visitors in less than four years, trustees of the Edward Heath Charitable Foundation maintained that it was not financially viable.
But following a Charity Commission's ruling in September, the foundation has agreed to test the "feasibility of a three-year business plan" and has applied to the council to reopen the property from 2012.
'National monument'
In a letter to the council, supporting the application, The Rt Hon Lord Howe said it was "important for these symbols of our recent political history not to be destroyed".
"I have in mind, as a parallel, the former home in France of their comparable political leader, General de Gaulle," he said.
"It is certainly unthinkable that any French governmental authority (national or local) would hesitate to permit the continued use of such a house as a national monument."
The foundation is also planning to apply for permission to market the use of the house and garden for events such as concerts and wedding receptions.
In a statement the foundation's trustees said they remained unconvinced "that there is any possibility of achieving financial viability for the foundation so long as Arundells is retained and opened to the public".
"The trustees remain of the view that it would be in the best interests of the charity to close Arundells, sell the property, allow it to revert to residential use, and use the proceeds of sale for other charitable purposes as provided for in Sir Edward Heath's will," the statement said.
Wiltshire Council is expected to make a decision before 1 March.