Police officers 'racially abused' Bath pub doorman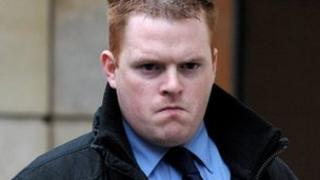 Two off-duty police officers racially abused a pub doorman at a Christmas party in Bath, a court has been told.
Bristol Crown Court heard PC Peter Lawson, 38, and special constable Philip Upton, 29, were on a night out with colleagues on 10 December 2010.
It is alleged the pair verbally insulted doorman Antonio Leo, who is of Italian descent, swearing at him and calling him "Polish" and "foreign".
The officers from Wiltshire Police deny the charges against them.
Mr Lawson had to be dragged from the Hall and Woodhouse pub in Old King Street by Mr Leo, the court heard.
The court was told the men had been out drinking with five or six work mates and had gone to at least one other pub before arriving at the bar and restaurant at about 19:30 GMT.
'Shouting and boisterous'
Prosecutor Stephen Dent told the jury the group became so loud that they were asked to leave by the pub management.
This was when Mr Lawson called Mr Leo derogatory names, the court heard.
"They were all shouting and boisterous and they appeared drunk," Mr Dent said.
"He [the assistant manager] went over and he spoke to them and asked them to calm down.
"It appeared the warning was not sufficient and they didn't calm down and he had to go back and ask them to calm down."
Mr Lawson was put in a head lock and was dragged from the pub by Mr Leo, the court was told.
Mr Lawson is charged with racially aggravated fear or provocation of violence
Mr Upton is charged with racially aggravated intentional harassment, alarm or distress.
The case continues.