Pagans attend winter solstice at Avebury stone circle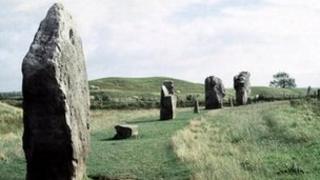 The winter solstice has been celebrated at a Neolithic monument in Wiltshire.
Seven people from the local Pagan community gathered at the Avebury standing stone circle earlier to mark the event.
Keeper of the stones and archdruid Terry Dobney said the occasion was marked four days later than elsewhere because of geographical differences.
He said: "It's complicated to work out, but at Avebury we celebrated the birth of the new sun this morning."
Mr Dobney added: "People will argue and say the solstice was on the 22nd [of December] but at Avebury it was today."
"We were staring at a clump of tees on the horizon through the grey clouds and suddenly [the sky] went pink," he said. "That was the moment."