Trapped boaters on Wiltshire canal to be freed in new year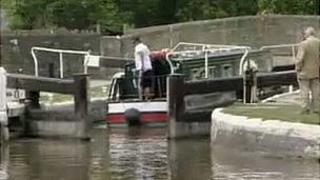 A 10-mile stretch of the Kennet and Avon Canal closed off due to a lack of water is due to re-open in January.
Over 90 boats have been stranded between Crofton Lock near Wilton and Copse Lock near Hamstead Marshall since mid-November.
British Waterways said ground water was at its lowest level for 90 years and was taking some time to recover.
Waterways manager Mark Stevens said: "We haven't got much water about but we're hoping to re-open on 4 January."
With a lack of adequate water supplies "to support boat movement", closed sections of the canal were padlocked shut on 17 November to prevent boat movement.
Since then trapped boaters have been advised to adjust mooring ropeslack to accommodate the changes in water levels.
But last week, canal boats trapped on the shut-down central section of canal were given a window of opportunity to leave.
'Very frustrating'
"We only had four boats that actually wanted to leave," said Mr Stevens.
"But it's good to know that there aren't 90 boaters screaming to be out of Bedwyn or Crofton and people are happy to be staying there.
"For those who want to move out - it's very frustrating for them but our intention is to reopen for limited navigation on 4 January."