Stonehenge lantern parade 'tradition' revived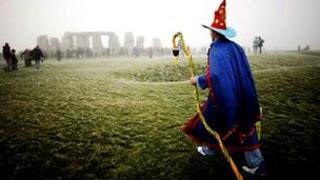 Hundreds have taken part in a lantern parade from Stonehenge to revive an ancient tradition for the first time in living memory, organisers said.
More than 450 people walked the two-mile (3.2 km) processional route from the ancient monument to Amesbury on mid-winter's eve.
Amesbury Mayor Andy Rhind-Tutt said "We're recreating tradition and legend.
"And we're walking across the original fields that our ancestors would have walked 5,000 years ago."
The parade, along the original processional route of the avenue, is believed to have been started centuries ago when the ancient monument was first built.
"We've just discovered that life began in Amesbury as early as 8,250 years ago with a settlement by the River Avon," said Mr Rhind-Tutt.
Sun sets
"And the processional route would have been the route that led people from Amesbury to Stonehenge."
During the winter solstice the sun is closer to the horizon than at any other time in the year, meaning shorter days and longer nights.
And the recreation of the procession has been timed to leave Stonehenge as the sun sets on the eve of the longest night of the year.
"It's about a mile-and-a-half but it isn't like walking down a road," said Mr Rhind-Tutt.
"In daylight you can do it an hour - in the dark it may take up to two hours but it's proving extremely popular and we've even got a stilt walker signed up."
The stone circle at Stonehenge will be open to the public at 0730 GMT on 22 December to mark the shortest day of the year.