Honda creates 500 jobs at Swindon plant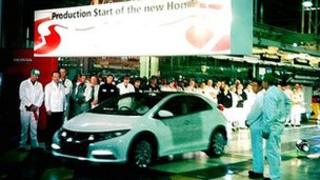 Honda is creating an extra 500 jobs in January at its Swindon plant, taking the workforce to 3,500.
Production will rise from 100,000 cars to 180,000 across all ranges in 2012, with an extra shift being added at the plant.
The announcement was made as the ninth generation Honda Civic rolled off the South Marston production line.
Workers have now returned to full-time work at the plant after production was scaled back due to supply problems.
More than 3,000 staff had been working reduced hours of three half-shifts a week since September after floods in Thailand affected the car manufacturer's supply of components.
Honda's Europe President, Manabu Nishimae, said the last three years had been "extremely difficult" as the company faced "many challenges".
But he added: "We will build upon our new-found strength and remain confident of our ability to achieve and succeed in the future."