New wellness centre for Help for Heroes Tidworth site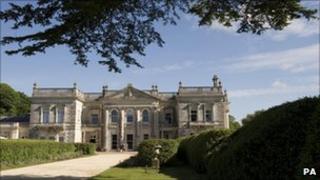 A new "wellness centre" is to be built at the Help for Heroes site at Tedworth House in Wiltshire.
The centre will be part of the facilities offered at the base, which offers physical and psychological help to injured service personnel.
At its full capacity of 1,000 the new centre, due to open in mid-2012, will deliver health, sport and exercise programmes to help with rehabilitation.
The facility is a partnership between the charity and GlaxoSmithKline.
Once constructed, the 700 sq m (7,500 sq ft) centre will house a gymnasium with specialist equipment which staff can use to provide individually-tailored programmes for the injured.
The wellness centre will also act as central hub for organising sports, adventure training and additional recreational activities such as canoeing, climbing, skiing and archery.
It will be part of the £17m recovery centre which welcomed its first guests in June.
Tedworth House in Tidworth, which has been described as a "launch pad to life", has been funded by the forces charity Help for Heroes.
It is one of five personnel recovery centres which are being built in major garrison towns across the UK.