Recycling bins not delivered yet to homes in Wiltshire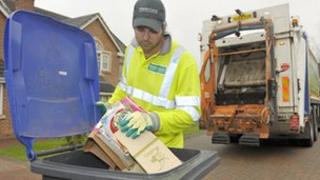 Ten thousand recycling bins have not yet been delivered to households in Wiltshire, despite new collections starting this week.
The man in charge of waste at Wiltshire Council, Conservative Toby Sturgis, blamed the delay on MGB Plastics, the company which made the bins.
He said he was "fairly confident" all the bins would be delivered in time.
The new plastic and cardboard collections are part of a £23m investment to improve recycling.
"The bin manufacturer had breakdowns and we didn't get the bins as early as we'd anticipated," said Mr Sturgis.
"They then had to come down from the north of England. We are fairly confident we will deliver to virtually every property.
"We are bound to miss some properties and, at the moment, the missed bins and the people who have got bins who don't want them is running at under 0.5%."
'Enormous operation'
Approximately 140,000 households in the county are being sent the new blue topped wheelie bins, however it is those living in the east who are still waiting.
Wiltshire Council said it would issue penalties to MGB Plastics for not delivering the refuse receptacles on time.
John Hubbard, a Liberal Democrat councillor on Wiltshire Council, said the implementation had been an enormous operation.
"They're trying to do an awful lot in a very short period of time," he said.
"I do wonder if a longer time span should have been allowed between distributing the bins and actually doing the first round of collections."
Some villages, including Ogbourne St Andrew near Marlborough, received their bins at the weekend, giving residents just a couple of days to try to fill them.