Controversial Croft Road school plan in Swindon gets go ahead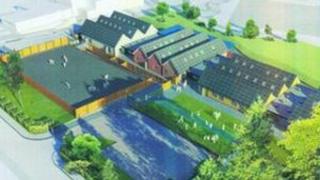 A new school in Swindon has been given the go ahead at a council meeting, despite strong local opposition.
Swindon Borough Council's planning committee approved a proposal for a primary school next to Croft Road sports centre in Old Town.
Campaigners said the area would not be able to cope with the increased volume of traffic a new school would bring.
The 420-place school is expected to open in phases, beginning in September 2012.
Local residents who opposed the plan also said the proposed access route to the school - via the unadopted section of nearby Marlborough Lane - was too narrow for traffic and potentially dangerous.
Campaigner Kareena Boyd said: "I'm absolutely and utterly shocked that the council officers could sit and recommend this access."
Swindon Borough Council said it had pledged £500,000 in "highway mitigation work" to ensure that access to the school was "safe and suitable".
Councillor David Renard, lead member for children's services at the council, said: "I'm pleased for the young people of Old Town who will now have a school in their community to go to."
Campaigners said they would appeal the planning committee's decision.